Nut Case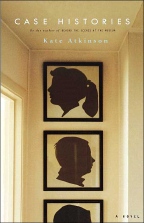 I stayed up until 2:00 a.m. the other night reading a book. It's a habit (good or bad, considering I now make my living as a writer) that I've struggled with since my elementary years, getting busted for reading with a flashlight on a school night. Back then, I'd get in trouble. Now that I'm an adult, I just get real tired. And a little nutty the next day.
Totally worth it, though. My latest favorite page turner:
Case Histories by Kate Atkinson.
A literary detective story with a shlumpy, likeable lead (Jackson, the newly divorced I'm-not-smoking investigator with an eight-year old daughter who displays an alarming Christina Aguilara fixation), the novel follows three separate cases that span over 25 years. The language is breathtaking, the cases are perplexing and compelling, and it's funny. British humor and characters with all the quirks you'd ever want.
Plus it has a humdinger of a plot, and some twists that will...well, keep you up past bedtime. Check it out. You won't be disappointed.
When's the last time you pulled an all-nighter to read for fun?